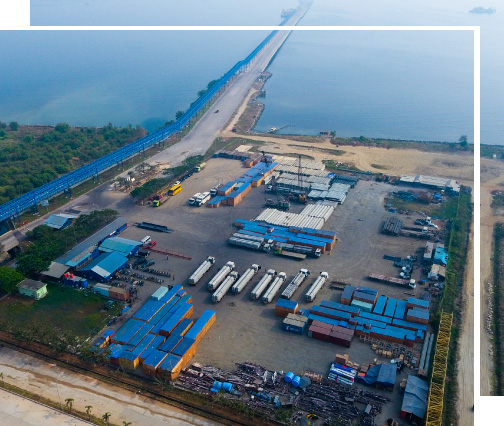 About Us
Marunda Center Terminal (MCT) is a Deep-water, common user multipurpose port in Bekasi, located within Marunda Center Industrial Estate, only 9 km to the east of Tanjung Priok Port. Marunda Center Terminal is owned and operated by PT Pelabuhan Tegar Indonesia (PT. PTI), a port business entity also known as Badan Usaha Pelabuhan ("BUP"). PT. Pelabuhan Tegar Indonesia is a joint venture company between Jurong Port Singapore and Marunda Centre Industrial Estate.
PT. Pelabuhan Tegar Indonesia, hereinafter Marunda Center Terminal is a Port Company established in 2011 pursuant to the approval by the Minister of Justice of Republic of Indonesia dated August 01, 2011.
Further, for the purpose of strengthening the capitalization structure and professionalism of port management, an investment and joint venture agreement was signed on May 24, 2013, among PT. Tegar Primajaya, PT. Multikarya Hasilprima and Jurong Port Marunda Holdings, a division of Jurong Port Singapore. In terms of permits and licenses, Marunda Center Terminal obtained license as a special terminal port operator on February 27, 2014, and later on May 24, 2017, Marunda Center Terminal signed the Concession Agreement with the Minister of Transportation, Marunda Harbormaster's Office and the Port Authority (KSOP Marunda) as a Public Terminal.
Marunda Center Terminal has human resources, assets and experiences in the industry of port, supported by Jurong Port, an International Multipurpose Terminal in Singapore.
Human Resources
Marunda Center Terminal has good skills excellence in resource management and cargo handling services in the Port Industry supported by Jurong Port, an International Multipurpose Port in Singapore.
Vision
To be Leading Multipurpose Port in Indonesia.
Mission
To provide Efficient and Quality Multipurpose Port Service to grow the trade and business.
Any communication that occurs within the Marunda Center Terminal should be clearly communicated and with a clear perception. It means that all information should be shared with relevant people in order to achieve customer expectations regarding the services provided. It is expected that there will be a common meaning and comprehensive understanding of the all people in the company.
Marunda Center Terminal is a part of customer and customer is part of Marunda Center Terminal. In every operational activity, Marunda Center Terminal ensures that all services provided are proper and even exceed customer expectations. Marunda Center Terminal listens, analyzes, provides and controls the work. 
Marunda Center Terminal has trusted resources that are always optimistic that Marunda Center Terminal can provide professional and high quality services to customers.  
The service commitment given by Marunda Center Terminal is very meaningful for customers. Marunda Center Terminal always keeps professional commitment as an added value for customers.  
Marunda Center Terminal develops mutual trust among team members, collaborates proactively as well as be able to provide more added values through teamwork.  
Marunda Center Terminal prioritizes safety at working environment with mutual protection as a whole.  
2012

December

Started Terminal 1A Construction.

2014

August

Started Terminal 1A Operation.

2015

January

Public Terminal (Temporary) License (Achieved 1 Million Ton).

2016

June

Started Terminal 1B Construction (Achieved 2 Million Ton).

2017

May

Signing of Concession Agreement.

2017

August

Started Terminal 1B Operation (Achieved 3 Million Ton).

2019

December

Achieved 6.6 Million Ton

2020

December

Achieved 6.5 Million Ton

2021

December

Achieved 7.7 Million Ton